NEW HOUSE CONSTRUCTION - 2014 WORK SCHEDULE

Currently 2 new homes are under construction within our Subdivision located at Camino Habitat ¼ mile south of Espanola on the Los Alamos Hwy. or State Rd. 30. There is a large Habitat sign at the entrance to Camino Habitat. Please feel free to volunteer on any Saturday indicated below.

Work starts every other Saturday at 9am, finishing up about 3:30pm

Next work day - Nov 8th @ 9am
Please dress appropriately for the weather, bring a water bottle if you can. You may want to bring snacks for yourself. Lunch is provided. Bathrooms and refrigerator on site.
If you have your own hammer or other tools you are welcome to bring them, we do have tools for your use though. No special skills are required, Tony our Strawboss will give you instruction for the day. Volunteer forms and safety waivers are at the site for you to complete upon arrival.
If you'd like to confirm the work day due to bad weather etc., you are welcome to call Yvonne 505-614-5853
How it's possible
Through volunteer labor and donations of money and materials, Habitat builds and rehabilitates simple, decent houses alongside our homeowner (partner) families.
*Habitat is not a giveaway program. In addition to a down payment and monthly mortgage payments, homeowners invest hundreds of hours of their own labor(sweat equity) into building their Habitat house and the houses of others.
* Habitat houses are sold to partner families at no profit and financed with affordable mortgages at no interest.
* The homeowners' monthly mortgage payments are used to build still more Habitat houses!
How are partner families selected?
Families in need of affordable shelter apply to local Habitat affiliates. The Affiliates Family Selection Committee chooses homeowners based on their level of need, their willingness to become partners in the program and their ability to repay the loan. Every affiliate follows a nondiscriminatory policy of family selection. Currently we have closed the application process for our new home in 2015. Please try again for mid 2015 for our 2016 homes.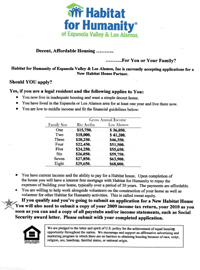 What are Habitat affiliates?
Community-level Habitat for Humanity offices act in partnership with and on behalf of Habitat for Humanity International. Each affiliate is an independently run, nonprofit organization. Affiliates coordinate all aspects of Habitat home building in its local area-fund raising, building site selection, partner family selection and support, house construction, and mortgage servicing.
Where does Habitat for Humanity operate?
*Locally, YOU have a Habitat for Humanity Affiliate
*Espanola Valley & Los Alamos, Inc. became a Habitat Affiliate Sept. of 1994.
*We have completed 8 New Habitat Houses and 50 major home repairs.
*New House number 9 and 10 under construction as we speak!
*Started A Brush with Kindness exterior affordable home improvement program, as of May 2012!
*The ReStore AND Thrift Shop accept donations of building materials, household goods, clothing, furniture and more! We are able to give you a tax receipt.
*Volunteers are the heart and soul of Habitat! Our ReStore and Thrift Shop operations, committee activities and construction would not be possible without those of you who donate so generously of your time, finances and items.
Help is needed right here in your community. Consider volunteering. Call, stop by or visit us on the web.


726 Riverside Drive
Espanola, NM 87532
click here for map
ph: (505) 747-2690